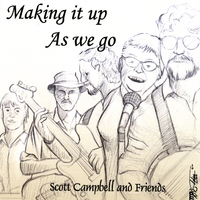 When you're a die hard music fan, and a diehard baseball fan, it doesn't get much better when one of your own songs is played to a full stadium on opening day. An extract of that story by fellow indie Iggy Taylor, is published below.
Barrington NJ, January 4, 2009 - The
Philadelphia Phillies
shocked the world when they won their second only World Series title in their 126 year history. Songwriter
Scott Campbell
wonders if he might have helped. Campbell, who resides in Lakeland Florida, wrote a song titled "Opening Day" and sent it to his NY producer friend
Mike Caro
. Caro suggested the song be properly recorded, and asked John Daubert of the band,
Too Little Time
to lend his lead vocals for the final demo. All three had known each other though the online music networking site,
Just Plain Folks
.
Daubert
, a dedicated fan and former baseball player himself, attended the Phils pre-season game in 2008. Running into his idol, Greg Luzinski, the two spoke of baseball and music. Daubert mentioned Campbell's song "Opening Day" and said he had a copy of the CD with him. Would he be interested in listening to it ? Luzinski took the CD and said he would pass it on to the "office". Two days went by when Daubert received a call from his granddaughter saying "Opening Day " was being played over the loudspeakers at the Phils home opener.
Now call it luck that the Phils went on to win the World Series after the song "Opening Day" was played, or simply a strange coincidence that the C.D. was given to Luzinski, who happened to play in the only other World Series that the Phils won. Whatever the reasons, the band Too Little Time is suggesting to all fans and the players not to "mess with karma". Good luck has already come to a team that has played the song. Why take chances? The band stands ready to help.If you agree that "There's too little time to prevent bad karma", you may write to your favorite major league baseball team and ask the song be played for the 2009 opener, or to the Philadelphia Phillies at: Philadelphia Phillies, One Citizens Bank Way, Citizens Bank Park , Philadelphia, PA 19148.
# # #
Postscript ; The song Opening Day, was once again played to a full house in 2009, and now also resides permanently at the
Baseball Almanac
. Interested parties are invited to listen to the song, from Scott Campbell's album, "
Scott Campbell and Friends
", and a
free music mp3 download
while the link remains valid.